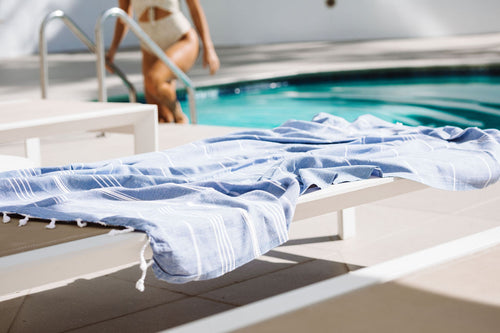 Turkish Towel Hacks
Frequently Asked Questions
What are Turkish towels?

Turkish towels are sometimes called Peshtemal, Hammam, or Fouta. They originated in Turkey and were a tradition when having a "Turkish" bath. These towels are made from high quality cotton and weaved on tradition looms, using various colours and thickness. Due to the fine weave they are made to be thin and lightweight however, highly absorbent wicking water away from the body. This also means they dry super fast.
Why buy a Turkish towel?

I can't believe this is a legit question.....Where do I start? They are light, compact and pack up small, but these are only a few of the reasons why you need to purchase a Turkish Towel. They are great for travelling or keeping in the gym bag because they aren't as bulky as a tradition beach or bathroom towel. They dry really fast, so you have a dry towel all the time for convenience. So long wet and musty towels! These are only just a few of the many reasons why you would purchase a Turkish towel. Check out our blog post for some more great ideas!
What do you do with a Turkish towel?

Gym towel, beach towel, sarong, travel towel, the list and uses are endless. Why not roll it up and use as a pillow? You'll find heaps of uses for your new Turkish towel. We use it as a scarf in the Australian winter. Check out our Instagram for some inspo.
How do I care for my towel?

As you can imagine, it gets lonely in the cupboard so we recommend taking your towel to the beach often. If you keep your towel clean at all possible times, you don't need to wash them as much and can roll them up ready for next use. Try and limit the amount of washing as it can turn the tassels into threads. It's best to tighten them before throwing them in the wash. If this does happen, you can simply twist and re-knot them. It's pretty hard to beat them and you'll have it for a long time.

When washing, please wash with detergent on low spin. You can add vinegar to the wash cycle for extra softness.
Can i tumble dry my towel?

Turkish towels can go in the dryer however, make sure to use a low heat as to much heat can impact the cotton thread and damage Turkish cotton. To much heat does cause them to get less dry and soft. P.S don't forget to tighten the tassel.
Does the colour run in my new Turkish towel?

No, the colour wont run on your new Turkish Towel, it can fade from long periods of sun use however that will take a lifetime of beach vibes. 
Why Turkish cotton?

Turkish cotton is ideal for towels, especially when it's been grown in the Aegean region in Turkey, it's also some of the finest natural cotton around. Not only is it hardier and tough, it's also super soft on the skin & will get softer and more absorbent with each wash cycle. It will also stay fresh if its damp when packing away, not like a normal towel that stays damp. Our towels come pre-washed, so they are already naturally soft straight out of the bag.
Are Turkish towels absorbent?

Glad you asked, yes super absorbent. We recommend you wash your new Turkish Towel a few times to get its best performance. The reason for this is it makes the cotton super soft and therefore becomes more absorbent. You might be used to the big bulky towel your currently using, so don't stress, you'll need a few beach runs to get used to it.
How long will a Turkish towel last?

It all comes down to how much you love your towel, treat it right it and it will love you for ever! We also use the highest-grade materials to ensure you get the most out of your Turkish Towel, so look, you'll be in love for ever.

We had our towels tested and they passed with flying colours, so head over to our product testing page for all the results.